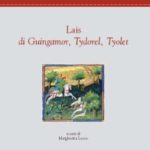 Edizioni dell'Orso announces an all-new Italian translation of the anonymous Breton lais Guingamor, Tydorel, and Tyolet. The volume includes a scholarly presentation of the lais as well as a Glossary and Bibliography.
Translation and presentation: Margherita Lecco (Università di Genova)
ISBN: 978-88-6274-612-0
Cost: € 16.00
Copyright: 2015
For more information, visit the Website (in Italian).