Submission Guidelines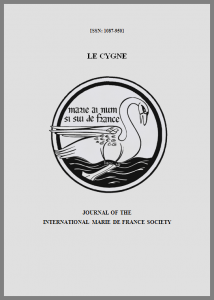 Le Cygne: Journal of The International Marie de France Society is issued once a year, in the Fall. As a refereed journal, it is indexed in the MLA Bibliography. Two to three articles are published in each volume (except for special issues).
The time between submission and publication decision is 6-9 months and between publication decision and publication 12-18 months.
Criteria for acceptance include: discussion of significant ideas; relevance to contemporary critical discussions; groundbreaking research or new theoretical approaches to ongoing debates.
REQUIREMENTS
Articles must make an original contribution to the study of Marie de France and her works or to the study of the Old French Narrative Lay, as a whole.
Articles must be written in English or French.
Articles may vary in length, though they are normally 6,000-8,000 words, including footnotes.
All contributors, upon acceptance of their article, must join the Society.
Upon acceptance, contributors should submit a 100-word abstract and conform their punctuation and citations to the journal styleguide.
The author is responsible for accuracy of quotations and citations.
Le Cygne will review only those articles that are not under consideration by other journals. We publish only articles that have not been accepted for publications elsewhere.
Le Cygne subscripts to a policy of blind submissions. Each article will be reviewed by two readers from the journal's Advisory Board. The author's name should be removed from the file. Necessary references to the author's previous scholarship should be in the third person.
STYLESHEET
Download the Journal Stylesheet (PDF)
FOR MORE INFORMATION
Contact the Editor-In-Chief of Le Cygne, Glyn S. Burgess at af02@liverpool.ac.uk.