IMFS member and author/translator of Marie de France: Poetry, Dorothy Gilbert has received two first place awards for her original poetry in the Ina Coolbrith 94th Annual Poets' Contest.
From the Ina Coolbrith Circle's webpage:
In 1919, poet/librarian/teacher Ina Coolbrith began meeting with kindred literary spirits at her home in San Francisco. "I want," she said, "the Circle to live and be ever widening… to perpetually keep the history and literature…of California alive…."

Today, about 200 members of the Ina Coolbrith Circle continue to pursue her mission to nurture the poetry and history, past and present, of the Golden State. Our members include poets, writers, historians, artists and readers with a particular interest in books by and about Californians.
Additionally, Gilbert's collection of original poetry, Fox Woman: Poems, is set for release in early August. The Fox Woman is a shapeshifter from Japanese folklore, echoing Gilbert's interest in Marie de France's Bisclavret.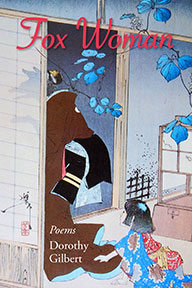 Copies of Fox Woman will be available on Amazon and the publisher's website.