The Portrayal of a Female Cultural Workforce: A Talk by Gail Borrow
Thursday, September 22, 2023 | 9:00-10:30 am EDT | Online, Bexhill Museum
Free and Open to the Public | Registration Required!
About this event
Marie in the Margins video installation director Gail Borrow discusses how she has approached this portrayal of a female cultural workforce. Exploring Marie de France's collection of twelfth-century lai stories through the lens of modern cultural innovators, she considers portrayal of women writers and the symbolism they seek for their female characters.
Marie In the Margins: Inspired by the work of England's earliest known female adventure writer Dame Marie, also known as Marie de France, and a forgotten workforce of twelfth-century female scribes & illustrators. In this ExploreTheArch video installation by Gail Borrow, three women artists working in the creative industries in Hastings explore the life & works of their cultural forebears within their own practices
Register here for free! https://www.eventbrite.co.uk/e/the-portrayal-of-a-female-cultural-workforce-a-talk-by-gail-borrow-tickets-417907471497
This booking is for the online talk only. In person audiences for the live talk at Bexhill Museum must book separately, via the Hastings Book Festival, here: https://www.hastingsbookfest.org/marieinthemargins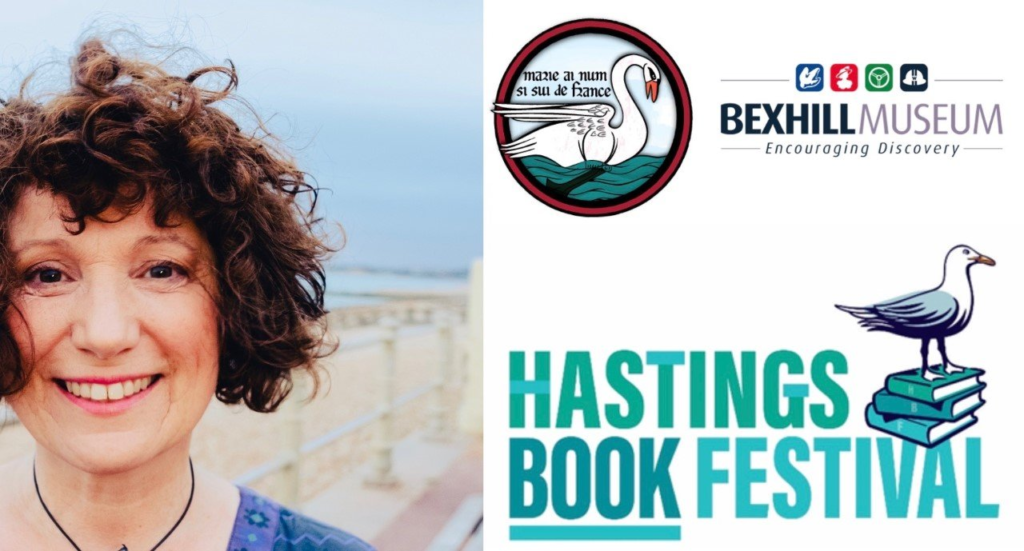 The Hastings Book Festival celebrates writers and lovers of the written word – a welcoming and open place for everyone. Our first festival took place in August 2018 and has now become a regular and welcomed event on the local calendar.
About Dame Marie
England's earliest known female writer, twelfth-century adventure author Dame Marie, lived in a rapidly changing historical period partly triggered by successive waves of migration across the channel to England after the Norman conquest of 1066.
Dame Marie pioneered an innovative writing style. Female illustrators were her contemporaries, working to illuminate manuscripts with exquisite margins.
Which house or abbey Dame Marie lived and worked in is not known. She lives on in the minds of female innovators inhabiting live-work spaces in Hastings today – a cultural town on the fertile margins.